Meet the 2013 Cohort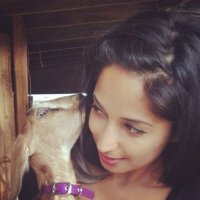 Ratnanjali Adhar- Originally from Wilmington, NC, Ratna is currently completing a GIS certificate at Portland Community College and is transferring to Portland State University to pursue an Environmental Science degree. She wants to put her degree to work in the wildlife conservation field. Her IDES research project is with Geological Survey's Cascade Volcano Observatory in Vancouver, WA. Ratna's mentors include Drs. Dave Ramsey, Angie Diefenbach and John W. Ewert. Her project consists of using geographic information system (GIS) techniques to archive and graphically present data. She digitizes hard copy map data for inclusion in GIS, and composes descriptive reports of activities. Ratna prepares maps and illustrations using computer graphic software to aid predictive mapping.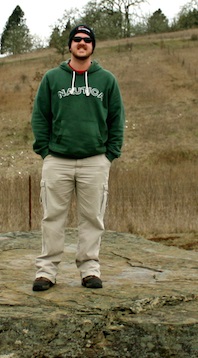 Rocky Barker- Rocky hails from Elko, NV and is currently pursuing a B.S. in Geology at Oregon State University, after transferring from Linn Benton Community College. Rocky's interest is in Economic Geology and he hopes to work in the mining industry, particularly a large hard rock focused company. This photo shows Rocky field mapping a porphyry copper deposit in Yerington, Nevada. His favorite outdoor activity is riding his mountain bike. Rocky spent the summer of 2012 flying around Alaska in a helicopter while he worked for a mining company.
Rocky's mentor is Dr. John Dilles at OSU's College of Earth, Ocean, and Atmospheric Sciences. Rocky works with graduate students (Fede Cernuschi, Nansen Olson) on granites and mineral deposits, partly assisting these students in preparing their samples, and in turn they help him in an independent study (on age, petrology, and zircon geochemistry of western Cascades plutonic rocks).
Rocky's latest focus has been on describing the mineralogy and petrology of the Jewett and Benton Mines, Klamath Geologic Province, OR. During Summer 2014, he spent time in this research area mapping and collecting samples. He says, "When I returned I had approximately 30 more samples to describe, make plugs for and attempt to figure out the order of emplacement and exactly what these rocks tell me about the genesis of my area. This is still a work in progress and I will be returning to the district one more time in order to clarify a few things and to finish my map. [When] I wasn't in the field or looking at my new samples I was working on the write-up portion of the project. I have completed over 20 pages thus far on my first draft." John supervises and oversees this research project, which Rocky intends to use toward a Bachelor's degree - honors thesis.
Rocky Barker was a participant in the 2014 Celebrating Undergraduate Excellence event, where he showcased his work on "Analysis of Au-Te bearing ores of the Jewett Mine, Josephine County, Oregon." His accomplishments include receiving the Richard W. Chambers Geology Scholarship for both Winter 2014 and Spring 2014.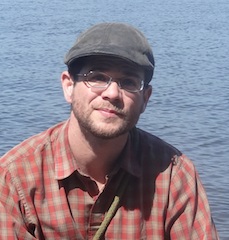 Elias Brown- Elias is originally from Everett, WA and is now living in Portland. He attends Portland Community College and is pursuing a degree in Geology. His interest is in both Geology and Archaeology. Elias wants to dig in dirt, collect rocks and fossils, make maps and work in education, particularly with at-risk youth and help others discover the wonders of the Earth. His favorite outdoor activity is adventuring and exploring a place's Geology. Elias has visited 47 out of the 50 US states by bike, bus, and/or train.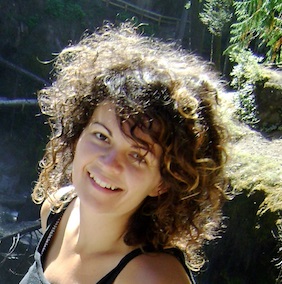 Erin Beuttenmuller-Erin is a native Oregonian who is majoring in Fisheries and Wildlife, she is transferring from Portland Community College to Oregon State University in the fall of 2013. Her interest is in conservation and has always wanted to work outdoors. She would like to work with Oregon Department of Fisheries and Wildlife (ODFW) or with the National Park Service. Her mentored research project will be with Dr. Judy Li in the Fisheries and Wildlife Department at OSU.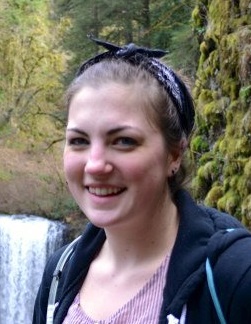 Erin Butts- Erin is originally from West Linn, OR and received her undergraduate degree from UC Santa Barbara in Environmental Science, but is now working on a GIS certificate from Portland Community Collge. Her interest is in Conservation Biology and hopes to put her skillset to work in that field. Her favorite outdoor activities are camping and scuba diving. Erin participated in a field-focused study abroad program in South Africa while she was completing her undergraduate degree.
Erin's IDES internship was with the U.S. Fish and Wildlife Service, Pacific Region. She worked with a team of scientist, but her primary mentor was Tom Miewald, a Landscape Ecologist & Data Coordinator working on Science Applications and Refuges North Pacific Landscape Conservation.
With guidance from this team, Erin's accomplishments have included a poster presentation, at the July 13 - 16, 2014, North America Congress for Conservation Biology, in Missoula, MT., on "A Regional Approach for Assessing Spatial Conservation Priorities for the National Wildlife Refuge System in the Pacific Northwest." Co-authoring this poster with her were Charles Houghten, Tom Miewald, Kevin O'Hara, Khem So, and Madeline Steele. More about Erin's research can be explored through her final project report, presented in the US FWS regional office and as a webinar, it is entitled, "Spatial Landscape Conservation Prioritization for Strategic Growth of the National Wildlife Refuge System in the Pacific Northwest.
Chris Conatser- Chris is originally from Kansas City, Missouri. He has been enrolled at Linn Benton Community College and Oregon State University as a postbaccalaureate student, pursuing multiple interests in soil science, and ecological and water resource engineering. Chris' favorite outdoor activity is botanizing.
Through the IDES Program, Chris Conatser joined Anthony Koppers and his research team on their 39-day expedition RR1309 to the research the extension of the Rurutu Hotspot in the Tuvalu Seamounts. He teamed up in particular with PhD Student, Kevin Konrad to help in the 40Ar/39Ar geochronology of the basalt samples dredged during the expedition. This involved sample selection, sample preparation, analyzing the samples using the new ARGUS VI mass spectrometer, and helping in the interpretation of the results. Chris also worked on a spin-off, small subproject that helped the overall project goals, while providing him with research of his own. Chris, along with Anthony Koppers' team, presented at the 2014 America Geophysical Union (AGU) Fall Meeting. They gave two presentations: "Age constraints on basalt samples from a transect across the Lau Basin: supporting evidence for modification by multiple mantle sources" and "A Geochemical Transect Across the Lau and North Fiji Basins: New Evidence for the Distribution of Multiple Mantle Plume Components."
In fall 2014, Chris started work towards a Masters Degree in Water Resources Engineering at Oregon State University. He is a recipient of the 2014-2015 NSF STEM Scholarships for students in Water Resource Science and Engineering degree programs.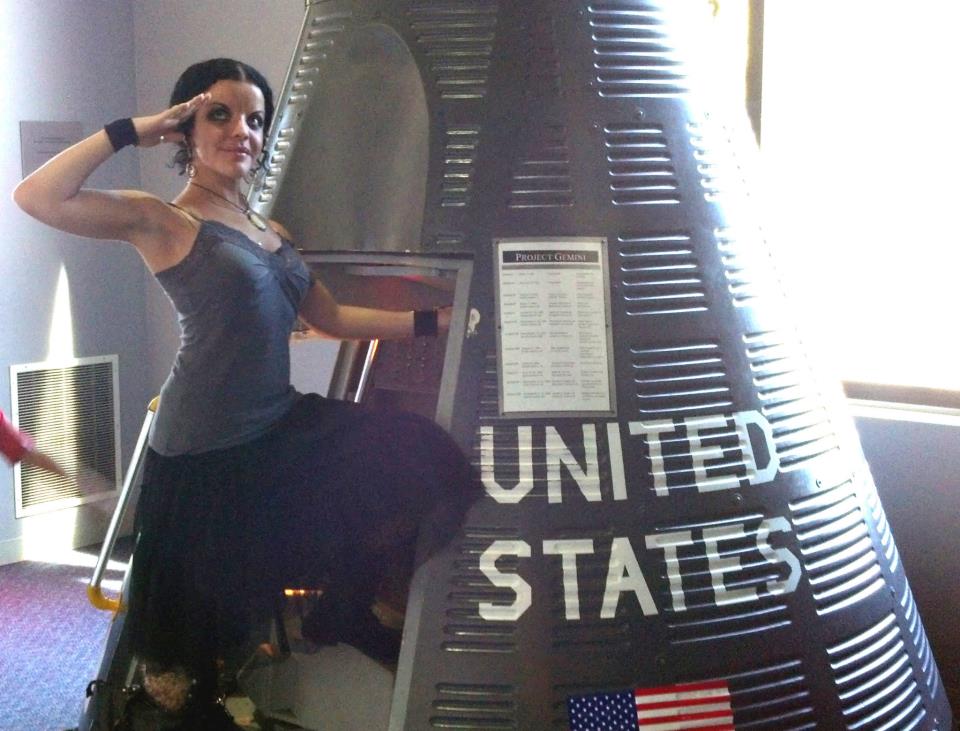 Cori Hanson- Cori's hometown is San Diego, CA. She is currently enrolled at Portland Community College, and is pursuing a degree in Geology & Planetary Science. Cori would like to pursue a career in Planetary Geology, particularly studying the possiblity of resource mining and eventual colonization. She enjoyes stargazing and shooting in her free time. Cori would be very happy if sometime she wake up on a spaceship! Cori's mentored research project is under the direction of Dr. Alex Ruzikca at PSU.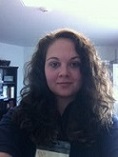 Aspen Mathias- Aspen's hometown is Klamath Falls, OR and she is currently attending Oregon State University. Her major is in Earth System Science, with a marine science focus. She enjoys surfing and scuba diving. Aspen is working with Dr. Anders Carlson at Oregon State University, on paleoclimate reconstruction of the Greenland Icesheet and understanding the role of the ocean in regulating the climate response between north and southern hemispheres.
Aspen, along with her mentors and supervisors, presented at the 2014 America Geophysical Union - Fall Meeting. They gave two presentations: "New Insights from 10-Be on the Deglaciation of Greenland: Comparison of a Continent-Wide Database with Climatic Forcings and Model Results" and "South Greenland Ice-Sheet Response to the Mid-Pliocene Climatic Optimum."
Aspen and her classmates, in the Computer-Assisted Cartography Course at Oregon State University, were awarded the 2014 New Mapmaker award, for the Interactive Atlas of Infectious Disease: An interactive iBook for iPads. The map can be downloaded from the OSU Cartography & Geovisualization Group, which also has a static (pdf) version available.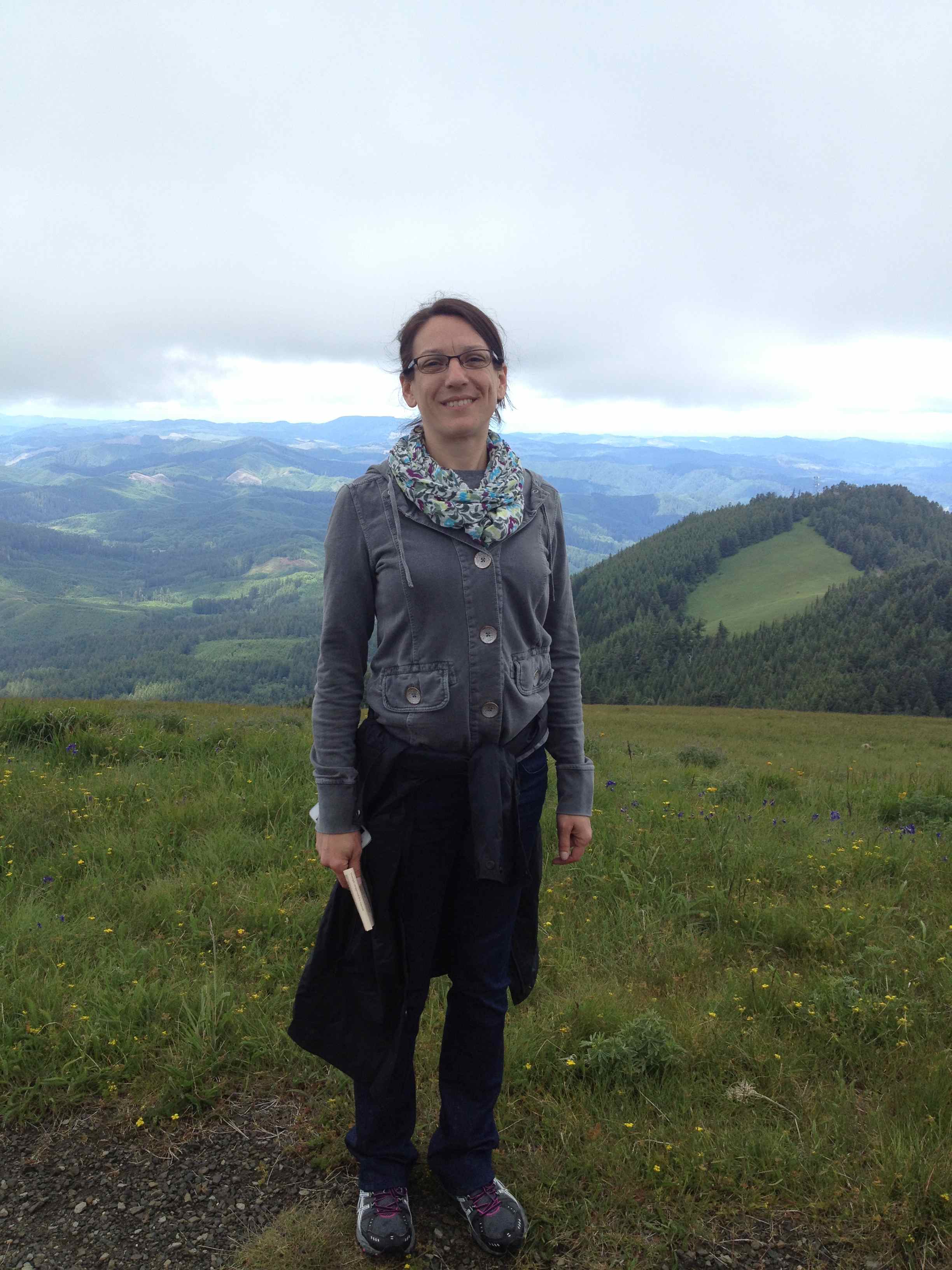 Heather Rice- Originally from Banks, OR; Heather transferred from Portland Community College to Portland State University (PSU) to pursue a degree in Geology. She would like to put her degree to work with volcanoes, a government agency, or possibly working on rivers. Her favorite outdoor activities include hiking and playing disc golf. Heather has three childern that keep her pretty busy!
"My IDES story begins in 2013; I was accepted into the program as one of the last cohort members. I soon found an internship with the Oregon Department of Geology and Mineral Industries (DOGAMI), working under the mentorship of Jason McClaughry, Eastern Oregon Regional Geologist.
My first year in the program involved office work in the Portland Office. While in the office I learned how to record and gather data of the well logs located in the mapping area. For my contribution on that project I was listed as a co-author on the STATEMAP Project. The STATEMAP Project involved mapping the geology of the southern Oregon coast. During my second summer I spent many weeks out in the field. I performed many tasks associated with the creation of a geological map. Overall my experience has opened doors for future work and accomplishments in geology. A list of my accomplishments thus far: Database construction and use; Field mapping; Co-authoring - "Geological map of the southern Oregon coast between Port Orford and Bandon, Curry and Coos counties, Oregon: Oregon Department of Geology and Mineral Industries Open-File Report O-14-01," by Wiley, T.J., McCaughry, J.D., Ma, L., Mickelson, K.A., Niewendorp, C.A., Stimely, L.L., Herinckx, H.H., and Rivas, J., 2014. I have also been accepted into the honors program at PSU, and I am working on my senior thesis, where all my work with DOGAMI will contribute. Recently. I was awarded the Paul Howell Memorial Endowment scholarship from the Portland State University Foundation."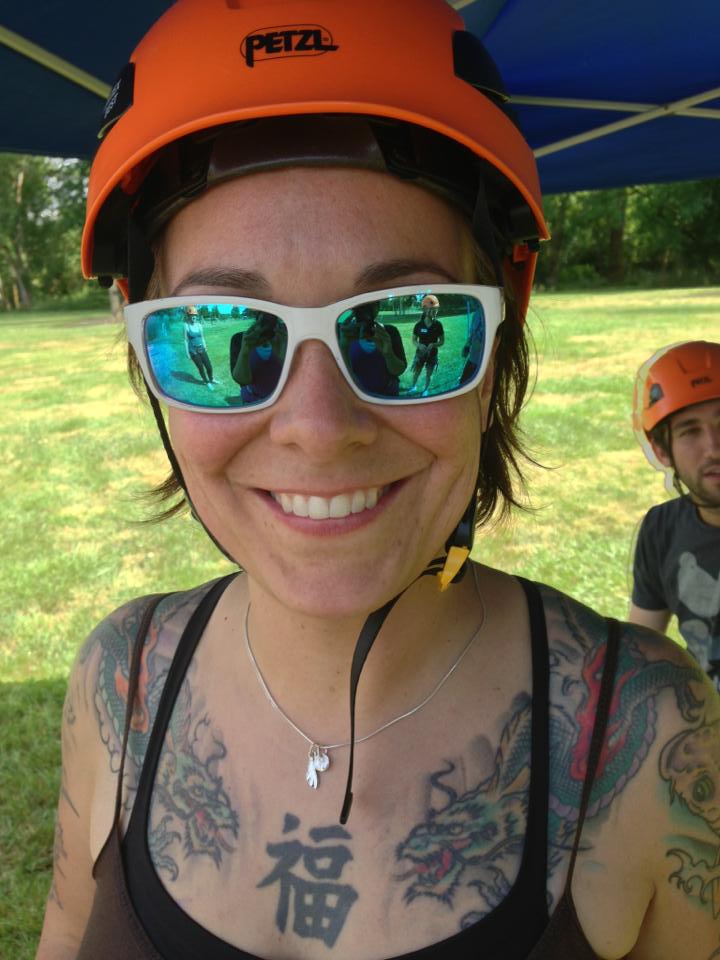 Nicole Rocco- Nicole's hometown is Portland, OR. She attended Portland Community College and is now enrolled at Oregon State University, where she is pursuing a degree in Earth Science with a Geology focus. Her interests are in paleoclimate and how geologic processes are interconnected with climatic processes. Her favorite outdoor activities are sky diving, hiking, and running. Nicole has returned to school after a 10-year break, and in her spare time she likes to pack parachutes in Shelton, WA. Nicole will be completing her mentored research project under the direction of Dr. Ed Brook at OSU's Ice Core Lab. Nicole's research project investigates the age and origin of ice deposits in Lava Beds National Monument, California. She was a participant in the 2014 Celebrating Undergraduate Excellence event, where she showcased her work on "Investigation of Perennial Cave Ice in Lava Beds National Monument."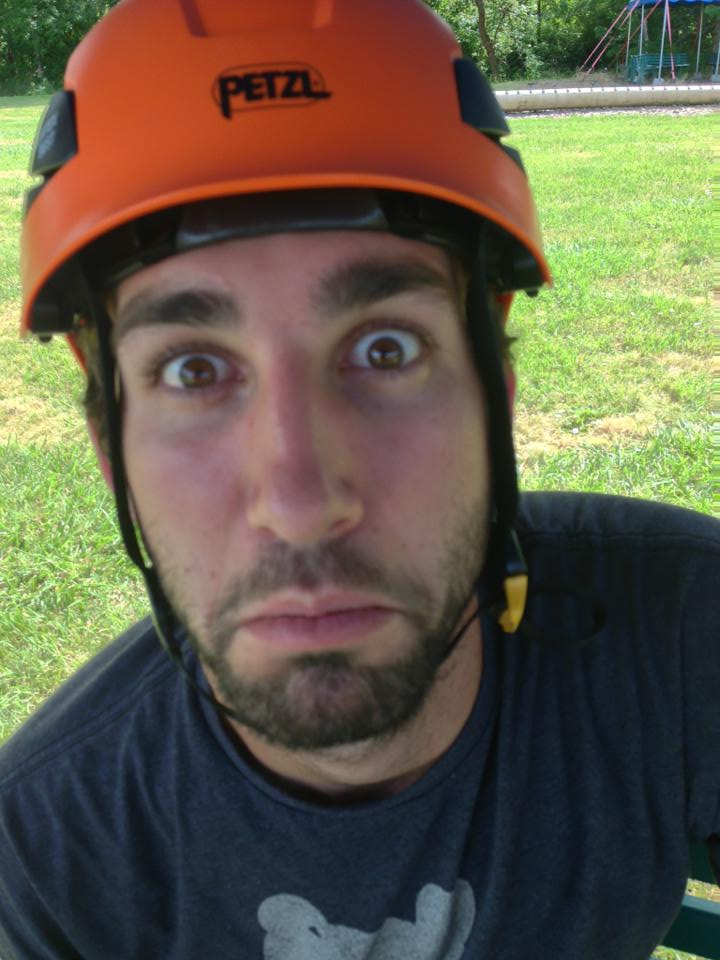 Austin Shick-Austin is originally from Minden, Nevada. He transferred from Linn Benton Community College to Oregon State University's Fisheries and Wildlife program. Austin is interested in conservation for future generations. His favorite outdoor activity is soccer, and he spends every free moment trying to play a game. Austin spent more than 30 nights in the outdoors last summer, and he loves the outdoors!